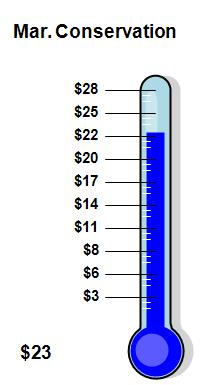 Governor Brown has issued a state-wide challenge: Conserve water. It's that simple. For Rialto, our new target is 26% cumulative savings over our 2013 water usage. We narrowly missed that target in March reaching 23.3%. Thank you for doing your part to conserve water and working to do more to help us meet the target. On December 8, the City of Rialto declared a Stage 3-B Water Alert. Click the image below for more information.  
 HOW TO SAVE 28%
How many gallons of water is that? A typical Rialto household of four people has been using about 476 gallons of water a day for indoor and outdoor needs. (As of June 2015, our average of 119 gallons per person per day is higher than many cities. Ideally, we should be at 75 gallons per person per day.)
To reduce your household water use by 28 percent means saving about 104 gallons a day, or 728 gallons a week. How can you save that much? Easy. A little bit each day goes a long way. Look at these weekly savings:
Turn off the faucet while brushing teeth or washing hands: 50 gallons a week.
Reduce irrigation times to three times a week: 350 gallons a week.
Take shorter showers: 175 gallons a week.
Wash only full loads of laundry and dishes: 75 gallons a week.
Install a smart controller: 75 gallons a week.
Fix a leaking toilet: Save up to 500 gallons a week.
UPCOMING FREE LANDSCAPING CLASSES FOR INDIVIDUALS
In an effort to educate the community on how to landscape for the drought, the City of
Rialto, in conjunction with West Valley Water District and Rialto Water Services/Veolia
are providing the following free landscaping classes:
Summer Landscape Maintenance can be Fun!
Summer days are longer and hotter. Learn how to keep your landscape healthy during
the hottest part of the year. An irrigation tune-up and watering needs will be covered to
save water and maintain plant health!
When: Saturday, June 4, 2016
Time: 11:00 a.m. to 1:00 p.m.
Where: Rialto Community Garden
539 N. Acacia Avenue
Rialto, CA 92376
Autumn = Landscape Haven
The fall months are the best time to improve your landscape. Learn what you can do to
ensure your landscape is beautiful, water-wise, and ready to bloom!
When: Saturday, August 6, 2016
Time: 9:00 a.m. to 12:00 p.m.
Where: West Valley Water District
855 W. Base Line Road
Rialto, CA 92376
Class size is limited, sign up today by calling (909) 875-1804 extension 347
or by email at conservation@wvwd.org to reserve your seat.
2015 ANNUAL DRINKING WATER REPORT

Our 2015 water quality report is available for review and download. This report is required by law, but we believe it's your right to know what's in your drinking water. Click the image at the left to download the report.
TAKE OUR CUSTOMER CONSERVATION SURVEY
Rialto Water Services would like to hear from you! Please take our water conservation survey. This will only take a few minutes of your time and will greatly help us better communicate the water conservation message through this website and our customer newsletter.
In exchange for your time, the first 150 valid surveys completed by RWS customers (one per household please) will receive a free water conservation kit, filled with important tools and devices to help you save water!
Click HERE to take our survey.
NEW VIDEOS SUPPORT WATER CONSERVATION EFFORTS